| | |
| --- | --- |
| 1967-72 4X4 LS Conversion Cross Member | |
Item category:
Cars & Trucks
/
Parts & Accessories
/
Engines/Motor Componants
/
Belts, Pulleys & Brackets
.....
Listing ID: 4727
This item has been viewed 0 times


| | |
| --- | --- |
| Listing type: | Buy Now Only |
| Number of items: | 1 |
| Seller location: | United States |
| Ends within: | 5 days, 16h:59m:42s |
| Buy Now | 300.00 USD |

300.00 USD

Innovative new design Dirty Dingo modular cross member for installing the LS Gen 3 and Gen 4 engines into 1967-72 Chevrolet and GMC 4X4 trucks. This is a true "bolt in" design. Precision laser cut from 1/4 plate steel. Surface sanded on both sides and folded with a large radius on a CNC press brake. Easy to install with a hand drill and a 3/8 drill bit. Designed with hidden slotted adjustable plates to accommodate out of square or bent frame rails. Utilizes updated captured clam shell style frame mounts while retaining factory position of engine mounts. Center section easily unbolts and drops out for oil pan removal. Includes outer frame plates for added strength. Billet aluminum center spacers are machined from 6061-T6 aluminum. All hardware is grade 8 zinc coated with super 9 double thick washers. Select below to add factory rubber frame mounts, adjustable LS conversion mounts, and powder coat.
·    * *  Designed to be used with Dirty Dingo Truck 4X4 Mounts DD-2585-4
*  Free powder coat on mounts when choosing powder coat option and purchasing mounts together
*  Discounted DD-2585-4 adjustable LS conversion mounts when purchasing together
*  Does not rquire a lift kit or body lift kit to install.
*  Designed to be used with GM Hot Rod or H3 Hummer truck oil pan. Vortec truck pan will fit but tight.
*  We will not ship this product outside the US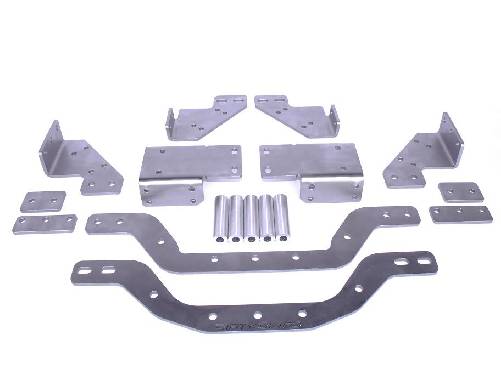 Payment Methods:

Cash, Credit Card, PayPal

Ships From

United States (85204)



Shipping Costs:
Domestic Flat Rate:

14.50 USD

International Flat Rate:

0.00 USD

Shipping Conditions:

Buyer pays shipping expenses , Will NOT ship internationally

Listing started:

April 16, 2021 - 22:19

Listing ends:

April 23, 2021 - 22:19

Listing ID:

4727

Item category: Cars & Trucks

/

Parts & Accessories

/

Engines/Motor Componants

/

Belts, Pulleys & Brackets