| | |
| --- | --- |
| Dingo Double-D Billet 3/8 Aluminum LS1 Adapter Plates | |
Item category:
Cars & Trucks
/
Parts & Accessories
/
Engines/Motor Componants
/
Belts, Pulleys & Brackets
.....
Listing ID: 4724
This item has been viewed 10 times


| | |
| --- | --- |
| Listing type: | Buy Now Only |
| Number of items: | 1 |
| Seller location: | United States |
| Ends within: | 7 days, 21h:37m:24s |
| Buy Now | 70.00 USD |

70.00 USD

DirtyDingo.com
Billet Aluminum Dirty Dingo Motorsports "Double-D" LSx engine adapter plates are machined from 6061-T6 billet aluminum and are designed as a true "bolt in" adapter plate for installing the 1997-2013 Gen III/IV LS series engine into 1958-72 GM cars and 2WD GM Trucks, and up to 82 Corvettes. These conversion plates will place your LS engine in the correct position when swapping from a small or big block Chevrolet engine to a LS series engine and have four different motor mount placement positions. The first set of holes position the LS engine in the original bell housing position, then 11/16" forward, then 1  11/16" forward, and the last set position the LS engine 2 1/4 inches forward from the original bell housing position. These are the most common engine positions for the major header manufacturers. No other conversion plates on the market are designed like these. Includes left and right adapter plates and all necessary grade-8 zinc coated hardware.
* These mounts are sold in pairs. "D" is Drivers side, "P" is Passenger side. Arrows point to the front.
* These mounts will not clear low mount a/c or low mount GTO rear alternator brace, but they will clear Camaro low mount alternators.
* Will not fit on 1967-72 4X4 Chevrolet GMC trucks. These trucks require a complete front cross member.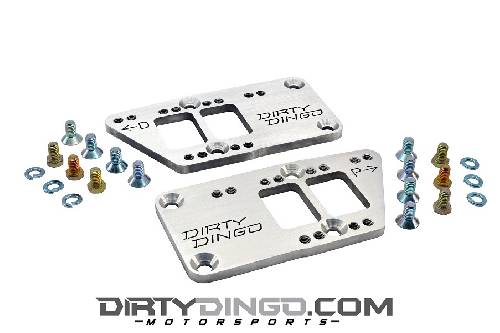 Payment Methods:

Cash, Credit Card, PayPal

Ships From

United States (85204)



Shipping Costs:
Domestic Flat Rate:

14.50 USD

International Flat Rate:

0.00 USD

Shipping Conditions:

Buyer pays shipping expenses , Will NOT ship internationally

Listing started:

December 31, 2020 - 08:21

Listing ends:

January 30, 2021 - 08:21

Listing ID:

4724

Item category: Cars & Trucks

/

Parts & Accessories

/

Engines/Motor Componants

/

Belts, Pulleys & Brackets