| | |
| --- | --- |
| 70,71,72 Chevelle, Malibu, Monte Carlo Sport Mirrors | |
Item category:
Cars & Trucks
/
Parts - pre 1975 *Vintage
/
Exterior
/
Mirrors
.....
Listing ID: 3980
This item has been viewed 4 times


| | |
| --- | --- |
| Listing type: | Buy Now Only |
| Number of items: | 2 |
| Seller location: | United States |
| Ends within: | 3 days, 19h:03m:05s |
| Buy Now | 249.00 USD |

249.00 USD

70,71,72 Chevelle, Malibu, Monte Carlo Sport Mirrors
Reconditioned GM Originals  ((( COMPLETE KIT )))
These are in excellent condition. They have been media blasted to bare metal, reconditioned and re-painted with a high quality primer/sealer.  
The mirror glass are in good shape, no chips or cracks.
Mirror bases have been shaved to insure the correct angle for the unique Chevelle application. The FLAT mounting base allows this set to be mounted on the ledge or flat surface of the door! NOT the vertical part of the door.
BRAND NEW-COMPLETE KIT....Gaskets, Mount Brackets, Attachment Screws & Door Bezel! (Includes hard to find backing plate for door bezel-used!)
Retrofit your chrome mirror into bullet mirrors on both sides! Not OEM for the 70 but they will fit nicely!   
READY TO PAINT, BOLT ON AND GO!
*Fit Tip* When first checking the fit, make sure to use the gasket. It corrects the angle. Although these are not originals, they have been modified and will fit the above applications ! (there were NO pass side mirrors made for the Chevelle.)
Guarantee: If for ANY reason you have a problem with the fit, send back and you will receive a refund for your purchase price PLUS initial shipping cost !
MIRRORZONE REFLECTS QUALITY !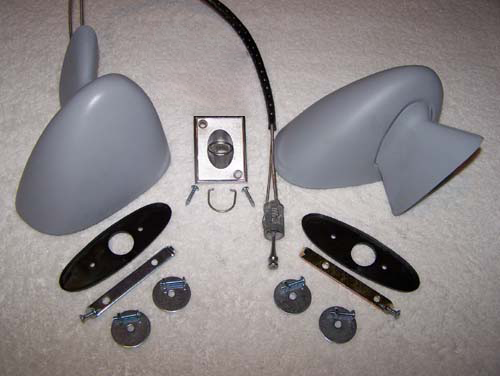 Payment Methods:

Cash, Credit Card, Money Order/Cashiers Check, PayPal

Ships From

United States (93006)



Shipping Costs:
Domestic Flat Rate:

15.00 USD

International Flat Rate:

49.00 USD

Shipping Conditions:

Buyer pays shipping expenses , Ships International

Shipping Terms:


Ships USPS Priority

Listing started:

May 03, 2021 - 09:09

Listing ends:

May 10, 2021 - 09:09

Listing ID:

3980

Item category: Cars & Trucks

/

Parts - pre 1975 *Vintage

/

Exterior

/

Mirrors