| | |
| --- | --- |
| Spring Solo Seat w/ Skirt & Conchos 1979-1981 Sportster | |
Item category:
Motorcycles
/
Parts & Accessories
/
Seats
.....
Listing ID: 1542
This item has been viewed 9 times


| | |
| --- | --- |
| Listing type: | Buy Now Only |
| Number of items: | 1 |
| Seller location: | United States |
| Ends within: | 18 days, 02h:42m:40s |
| Buy Now | 159.95 USD |

159.95 USD

Solo Seat for Harley Davidson with Skirt Conchos and studs, We can also do embroidery or  Make your seat  any color as shown in additional pictures for a small fee Feel free to contact us We love to do creative and custom work.Seats are like fenders. 
Fenders come in different shapes to fit the different model cars.  Likewise a Solo seat might look a little different from the shown pictures in order to accommodate your particular bike model and year.  The seat has to be the right width for your frame, and have the right slope up to the back fender.   Also, a lot of custom bikes have stretch tanks, and back fenders that not only are wider, but also with a different arch shape.   Which means the stock seat will no longer fit the bike.   We will show you many ideas and answers regarding your seat application.  Do not hesitate to contact us with your questions.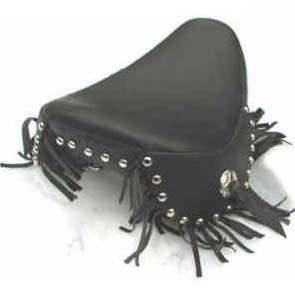 Payment Methods:

Cash, Credit Card, Money Order/Cashiers Check, PayPal

Ships From

United States (91342)



Shipping Costs:
Domestic Flat Rate:

0.00 USD

International Flat Rate:

0.00 USD

Shipping Conditions:

Buyer pays shipping expenses , Ships International

Shipping Terms:
FREE shipping in continental United States INTERNATIONAL SHIPPING-Please contact for shipping price!

Listing started:

April 26, 2021 - 16:28

Listing ends:

May 26, 2021 - 16:28

Listing ID:

1542

Item category: Motorcycles

/

Parts & Accessories

/

Seats